Upcoming and Recent Enhancements
DA Dashboard Security Changes (Round 2): 03/27/2020
Before this change, DA Users' security was based on Project Owning Department only. Therefore, DAs were unable to see Activities scoped to their department, if the Project Department was outside their purview. PI-App security is based on their role as PI or Scope-I only, so there was a gap in what Awards the PI can see in MyGrants and the Awards a DA could see when filtering for that PI.
This change will allow DAs to see ALL Scoped activities based on Activity Department. This is most easily evident in the Award Summary tab (My Scope Activities table) and in the Activity Details page. 
Activity Details Tab/Table: Scroll right or export to see several new columns.
SNAP (Y/N Flag)
Project Department
Activity Department
Industry Sponsored Awards Tab/Table: Scroll right or export to see new "Study Manager Last Update" column.
Export > Underlying Data is disabled on all reports. Export > Summary should provide all needed information. If  there is a column you previously depended upon, that you do not see when using Export > Summary, please report to mygrants@columbia.edu.
DA Dashboard Security Changes (Round 1): 11/14/2019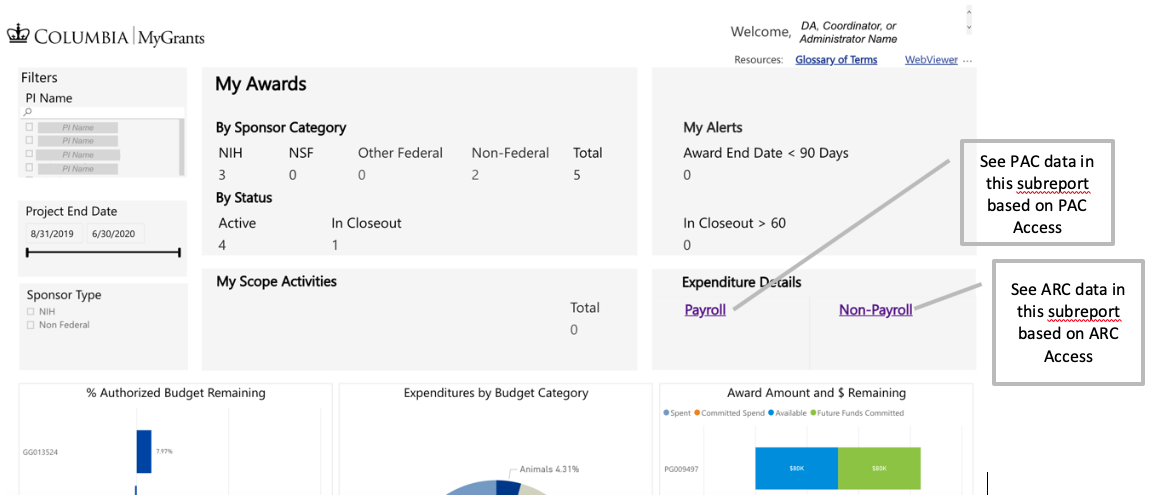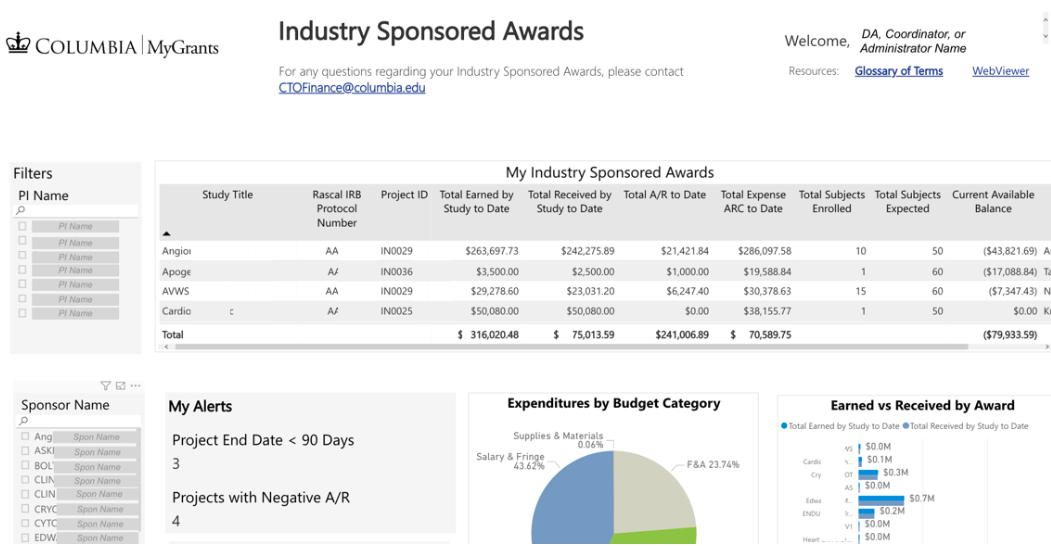 DA Dashboard Updates: 09/26/2019


Summer and Fall 2019
Over the last few months, the MyGrants Project Team has worked very closely with an advisory group of your peers from across all Columbia campuses to review the current DA version of the MyGrants Dashboard. Together, we have been able to identify several new features specifically with Departmental Administrators in mind, that will enhance your use of the dashboard as you work with your PIs to manage their grants.
Stay tuned as we introduce more features throughout the Summer and Fall!
DA Dashboard Updates: 05/10/2019